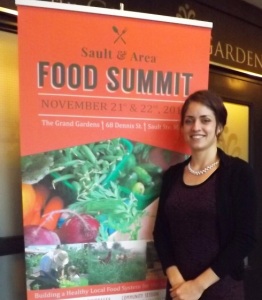 On November 21st and 22nd, 2014, the Sault & Area Food Summit took place in downtown Sault Ste. Marie. Organized by the RAIN, the two-day Food Summit kicked-off Friday evening with a Harvest Dinner Fundraiser which raised nearly $5,000 for the Soup Kitchen's Good Food Box.
Saturday, the Food Summit continued with an interactive community discussion. Guest speakers from across the north shared their experiences, including Kendal Donahue of Eco Superior Environmental Programs in Thunder Bay. Kendal shared how Thunder Bay and Area have successfully implemented a Food Strategy, which is a community-led approach to identifying issues and solutions for the region's food system.
"The Food Strategy aims to lay out the principles of a healthy and sustainable food system—principles like access to healthy food for all, preserving and maintaining local waters and agricultural lands, and encouraging regional and local food self-reliance," explained Kendal.
Many community groups and individuals in the Sault area are working on similar issues, and gathered Saturday to share experiences and form strategic partnerships. Farmers, foodies, and community organizations discussed how issues such as food skills, food security, and food access can be addressed in the Sault area, and established actions and goals for the upcoming year regarding issues and opportunities in the local food system.
To learn more about this event, or similar events in the future, please contact Katie Filion, RAIN Market Development Specialist, at kfilion@ssmic.com.
Presentations and the follow up summary from the event is available at: https://rainalgoma.ca/resources/