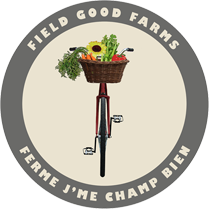 RAIN is excited to be on the advisory committee of the Northeastern Ontario New Farmer Network, which is is kicking off their 2014 fall/winter activities with a farm tour at Field Good Farms this Sunday October 5th. Please pass the following information on to any new farmers (or prospective farmers) that you know!
New Farmer Training Series: Fall in the CSA/Market Garden, Sunday October 5th
Field Good Farms/Ferme j'me champ bien Farm Tour Poster Oct 5th

1345 Levac Rd, Cache Bay, ON     MAP
Farm Tour and Discussion: 10:00am – 12:30pm
Potluck Lunch: 12:30pm – 1:30pm
*Please bring a dish to share as well as a plate, bowl, cup and cutlery.
Work Bee (weather dependent): 1:30-4:00pm
Join Isabelle and Ryan of Field Good Farms (Ferme j'me champ bien) for a tour of their farm and a glimpse into the changes and special considerations Fall brings to their CSA/Market Garden. Topics like cold hardy vegetable varieties, season extension techniques and preparing the garden for the winter months will be discussed. Ryan and Isabelle are in their third year farming organically on their 10 acre farm in Cache Bay, Ontario. They operate a vegetable CSA, produce vegetables for Eat Local Sudbury Co-op's Multi-Farmer CSA, and sell vegetables each Saturday at the North Bay Farmer's Market. Isabelle and Ryan are working towards organic certification for their farm.
*The farm tour is free, but please register by emailing neonewfarmernetwork@gmail.com or by calling Allison Muckle, Project Coordinator at 705-694-0165.