The RAIN project staff work alongside collaborators to undertake research, and build relationships and capacity for producers of agricultural goods in the Algoma District and across Northern Ontario.  Our team is composed of specialists with backgrounds in business, agriculture, environmental science, and marketing.
RAIN Staff
& Advisors

Position
Email
Phone
Errol Caldwell
Co-Chair
 
 
Gayle Broad
 Co-Chair
 
 
David Thompson
Manager
dthompson@ssmic.com
(705) 942 7927 x3027
Mikala Parr
Agriculture Research Technician
mparr@ssmic.com
(705) 942 7927 x3046
Cathy Bouchard
Infrastructure Coordinator (Tile Drainage & Land Clearing) and SNAPP Program Contact
cbouchard@ssmic.com
(705) 942 7927   x3135
 
 
 
 
 
 
 
 
Errol Caldwell, RAIN Co-Chair, Sault Ste. Marie Innovation Centre (retired)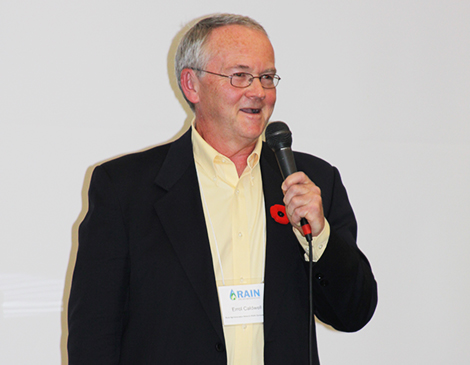 With over 32 years' experience in federal science based departments, including 8 years with Agriculture and AgriFood Canada, and 22 years as a science director with the Canadian Forest Service, Errol has been leading the establishment of the Rural Agri-Innovation Network (RAIN) in Algoma District. Errol became the Research Director for the Sault Ste. Marie Innovation Centre (SSMIC) following SSMIC's merger with Science Enterprise Algoma (seA) in 2009, and is working with RAIN to assist in agri-based economic development in Algoma District and facilitate improvements in agricultural research and innovation in Northern Ontario.
Previous projects have included: development of a Centre for Invasive Species in Sault Ste. Marie as well as establishment of the Invasive Species Research Institute at Algoma University; Funding of the Invasive Species Research Chair and the Natural Products Chemistry Research Chair at Algoma U; and also facilitating the commercialization of research deliverables and services.  Errol was founding chair of the Ontario Federal Council Science Committee comprised of representatives from federal science-based departments and agencies located in the Ontario region. The Science Committee worked with federal counterparts to improve the science capacity of the federal science and technology community, increasing the public profile of federal science programs and encouraging youth interest in science education and careers.
Errol has a Masters of Science degree in entomology from the University of Guelph and a B.Sc. from the University of Toronto. Management responsibilities included projects on insect genomics and pest control methods development, environmental impact, bioproducts, insect ecology and research on invasive species such as the Asian long horned beetle and the Emerald ash borer.
Gayle Broad, RAIN Co-chair
Dr. Gayle Broad is the Past Director of Research for NORDIK Institute, a community-based research institute affiliated with Algoma University. Gayle combines a background in legal advocacy with years of experience in facilitation, conflict resolution, strategic planning and program evaluation.
Dr. Broad's research interests derive from her more than 20 years' experience as a community organizer prior to returning to graduate studies to complete her doctorate. Her current research interests include the social economy, public legal education, indigenous issues, participatory action research, violence against women, and poverty. Currently she is working with community groups and other researchers on creating resilient, sustainable Northern, rural and Indigenous communities and strengthening relationships. With Errol, Gayle helped establish the Algoma RAIN pilot project.
David Thompson, Manager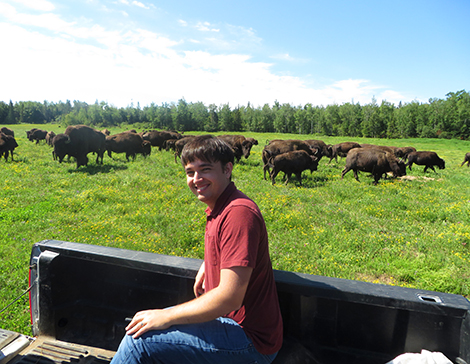 As the RAIN Research Project Coordinator, David leads the Rural Agri-Innovation Network to connect and build the capacity of Algoma farmers, agri-businesses and entrepreneurs through research and market development.
Before joining SSMIC, David was a Research Coordinator for NORDIK Institute (Algoma University) and led several research projects on agricultural co-operatives and the social economy. David has an MBA in Community Economic Development from Cape Breton University and a B.A. (Hons) in Community Economic and Social Development from Algoma University.
Mikala Parr, Research Technician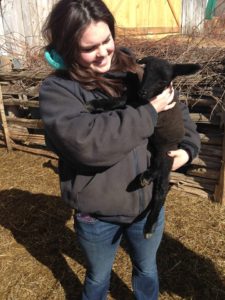 Mikala Parr is RAIN's research technician. She works on the on-farm projects in co-operation with Algoma farmers. Mikala has a Diploma in Agriculture from University of Guelph: Ridgetown Campus.  She is working on starting her own beef farm on St. Joseph Island. With experience in dairy and beef she has a good knowledge of the practical side of farming. She is very passionate about agriculture and how it will impact the future.
Before becoming a part of RAIN's team she worked in the Guelph area on a dairy farm. Going through school she worked on dairy farms, between harvest time and daily milkings she has applied agriculture experience. She has her grower pesticide license as well as her integrated pest management course for corn and soybean license. Mikala joined RAIN as an NOHFC intern and has stayed on to continue working on applied agricultural research.
Cathy Bouchard, Program Coordinator (SNAPP and Infrastructure Development)
RAIN's Pro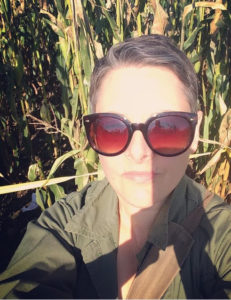 gram Coordinator is the contact for the Sustainable New Agri-food Products and Productivity Program (SNAPP) funding, as well as tile drainage and land clearing projects.
Born and raised in Sault Ste Marie, Cathy recently returned to Northern Ontario after living in Toronto for two decades. Cathy has several years of experience in the food sector; having worked in food service, product development and nutrition. She also owned and operated a natural food shop,  in Toronto.