Join us November 26th to hear study results and next steps.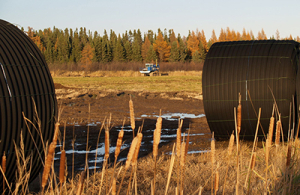 The Rural Agri-Innovation Network, through Conestoga Rovers & Associates (CRA) with CG Trivers Ltd., has completed the Agriculture Tile Drainage and Storage Study: An Agricultural Engineering Analysis and Development Strategy for Algoma District
The results will be shared with Algoma's agricultural community on November 26th, 2013 from 7:00 p.m. to 9:00 p.m. at Bruce Station Hall (109 Station Rd., Bruce Mines, ON, P0R 1CO).
As well as result sharing, the next steps will be discussed at this meeting, including RAIN's plan to approach funding sources to develop a tile drainage incentive program as well as identifying a consortium(s) of growers interested in reducing infrastructure costs for tile drainage or storage.
Your survey response is appreciated, and we look forward to seeing you at this meeting to discuss how Algoma District can move forward with infrastructure improvements.
For more information on this event, please contact Katie Filion, RAIN Market Development Specialist: kfilion@ssmic.com or 705-942-7927 X 3024.
To see the Powerpoint presentations from the event, click here.