Farming in northern Ontario is not without its challenges. Horticulture farmers and market gardeners in the north face many obstacles from extreme weather to blackflies. The Sustainable New Agri-Food Products and Productivity (SNAPP) Program assists farmers with purchasing innovative equipment to increase efficiency and create new products for a growing market.
Sleepy G Farm is a small-scale, certified organic farm that produces bedding out plants, vegetables, eggs, and beef in Pass Lake, Ontario. Sleepy G Farm produces certified organic vegetables that are marketed through Community Supported Agriculture (CSA) and to retail outlets in Thunder Bay. Owners, Marcelle Paulin and Brendan Grant also maintain an on-farm shop where customers can purchase vegetables, farm eggs, beef and other local goods year-round.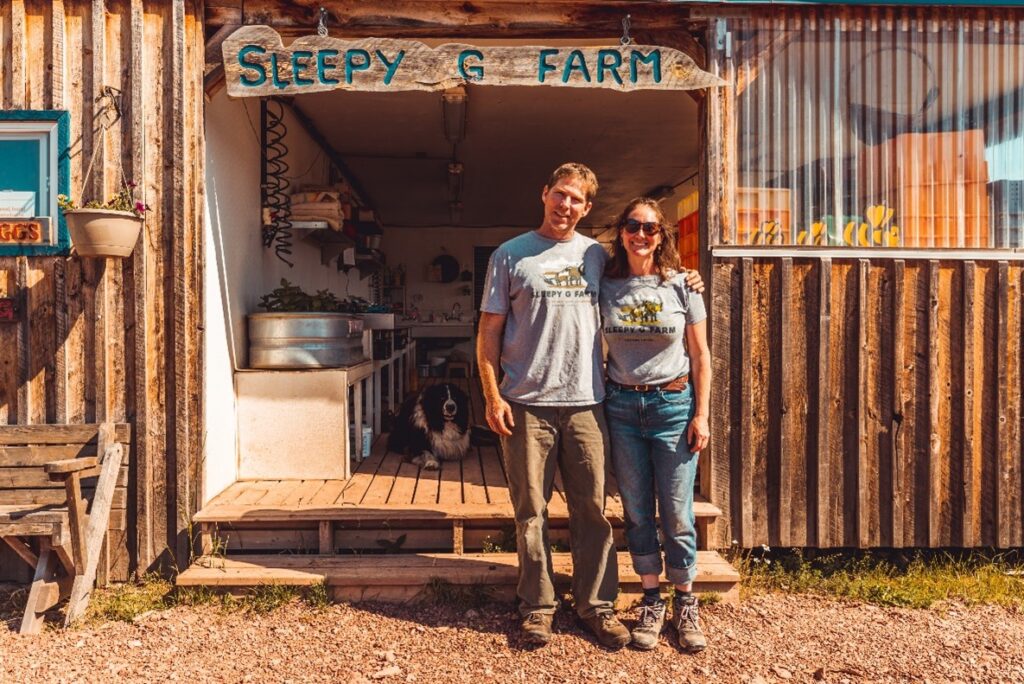 Sleepy G is constantly adapting to growing markets and expanding their business. The SNAPP program has assisted Sleepy G with several projects on their farm to create new products, increase productivity and meet customer demands.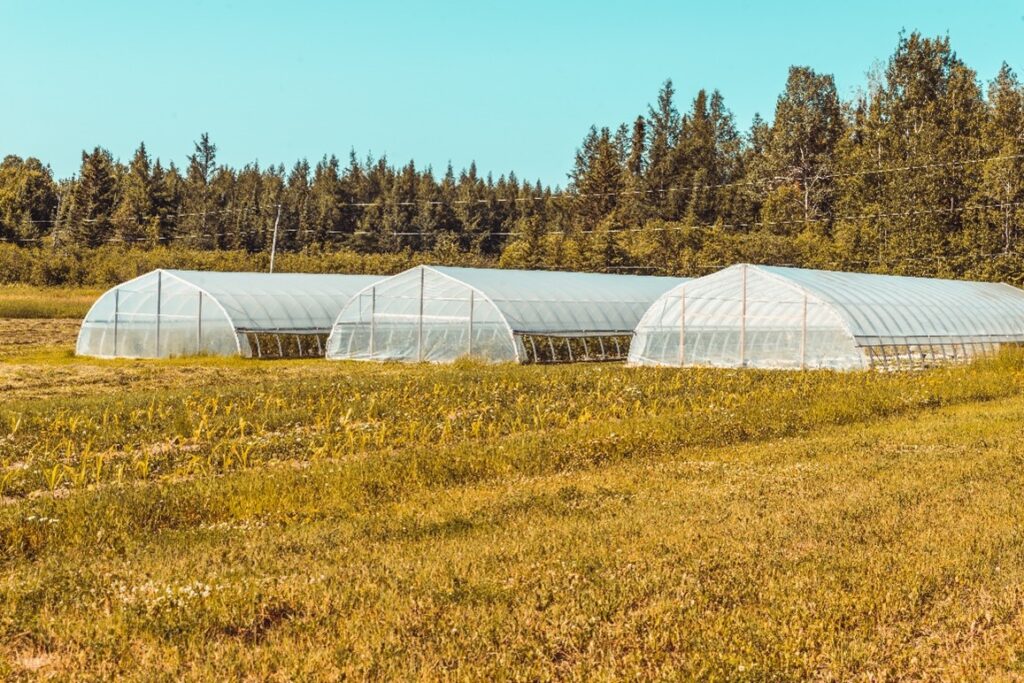 SNAPP assisted with the purchase of a drum washer that has been converted into a salad spinner to enable the farm to add washed and packaged salad greens to their product line. They also purchased a cooler-compressor unit and shuttle bins to be able to properly store root vegetables and other produce in bulk in the winter.
SNAPP has been instrumental in helping us improve productivity and as well as develop a couple of new products, which helped us be more profitable.

Marcel Paulin, Sleepy G Farm
Sleepy G Farm has been steadfast, especially throughout the pandemic in their goal to continue to grow and distribute vegetables to the Thunder Bay community. SNAPP funding also assisted with the purchase of a hoop house with heating and irrigation system to grow more plants and keep up with the demand for local gardeners brought on by the COVID-19 pandemic.
—
Veg·e·tate market garden is in Kaministiquia, ON and provides fresh, high-quality produce to the city of Thunder Bay and surrounding regions, while promoting the use of small-scale, intensive agriculture to benefit the surrounding communities and environment. Operated by Justin Friedel and Caitlin Peuramaki-Brown, Veg-e-tate produces year-round microgreens, field vegetable crops, potted herbs, and garden transplants as well as sprouting seeds and supplies.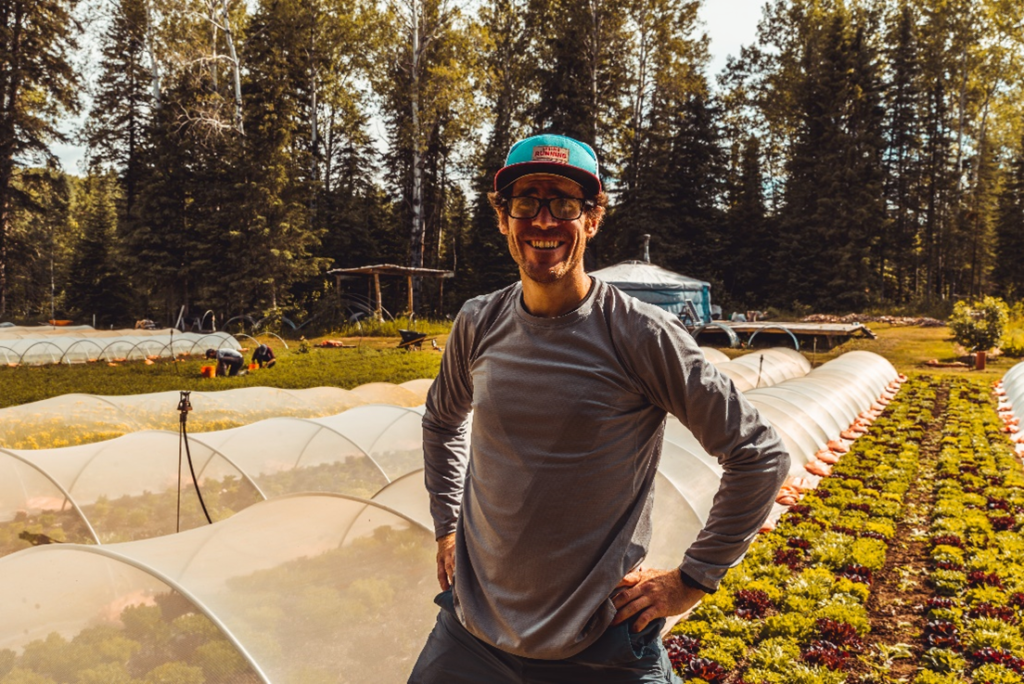 COVID-19 increased the demand for delivery and online sales. Vegetate had added year-round microgreens to their product line in 2012 and was looking to increase efficiency, to increase revenue and offer monthly subscription boxes to customers.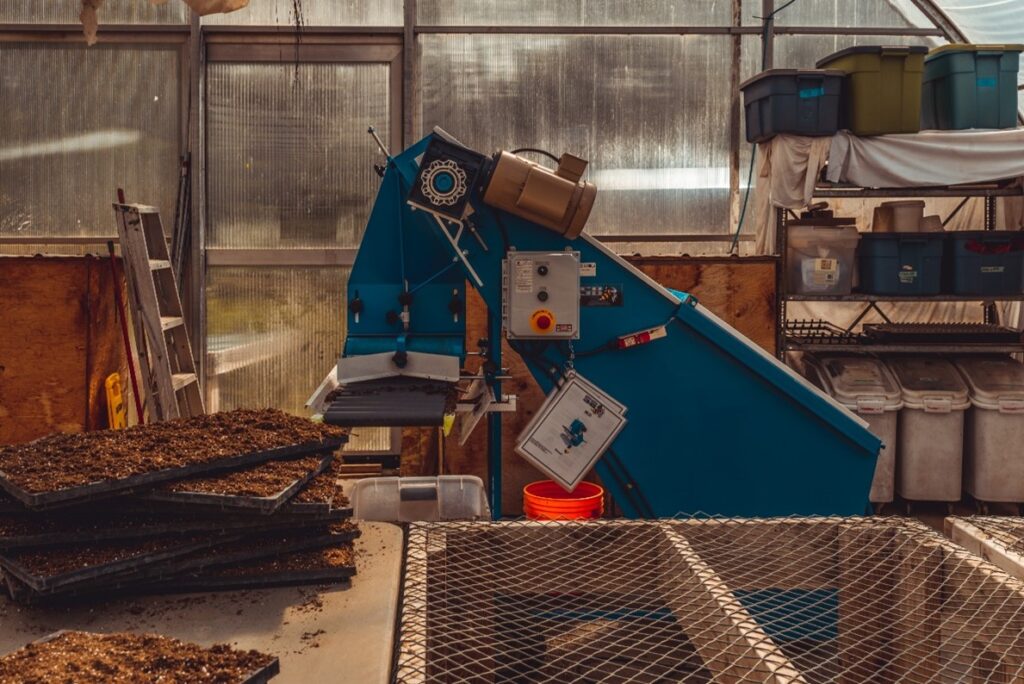 SNAPP assisted with the purchase of a semi-automatic bale breaker and tray filler to automate the production of microgreen trays. This machine allows a single user to accomplish 3 separate tasks, which are typically done by hand. Veg-e-tate was able to enhance efficiency by standardizing the mixture of the soil and triple the number of trays filled her hour. This reduced labour and expanded their microgreen business to reach more customers.
Without (SNAPP funding) we wouldn't have been able to even consider a piece of machinery like this.

Justin Friedel, Veg.e.tate Market Garden
For more information visit:
www.sleepygfarm.ca www.facebook.com/vegetategarden
The Sustainable New Agri-Food Products and Productivity (or SNAPP) Program is a funding program that responds to opportunities and mitigates challenges of expanding agri-food in northern Ontario. SNAPP is an initiative of the Rural Agri-Innovation Network, a division of the Sault Ste Marie Innovation Centre in partnership with the Northern Ontario Farm Innovation Alliance and the Northwestern Ontario Innovation Centre and is proudly supported by FedNor and the government of Canada.

On innove en horticulture dans le Nord-Ouest de l'Ontario
Il va sans dire que l'exploitation agricole dans le Nord de l'Ontario a ses défis. Les producteurs horticoles et les maraîchers du Nord rencontrent une foule d'obstacles : les conditions météorologiques extrêmes et les mouches noires, entre autres. Le nouveau Programme de productivité et des produits agroalimentaires du Nord durables (SNAPP) aide les fermiers à se procurer de l'équipement novateur en vue d'augmenter l'efficacité et de créer de nouveaux produits pour leurs marchés croissants.
La ferme Sleepy G Farm est une petite exploitation certifiée biologique qui produit des plantes à massif, des légumes, des œufs et du bœuf à Pass Lake, en Ontario. On y produit des légumes certifiés biologiques qui sont distribués par l'entremise de l'agriculture soutenue par la communauté (ASC), ainsi qu'à des points de vente à Thunder Bay. Les propriétaires Marcelle Paulin et Brendan Grant s'occupent aussi d'un magasin sur le site où l'on peut se procurer des légumes, des œufs frais, du bœuf et d'autres denrées tout au long de l'année.
Une entreprise qui ne cesse de s'agrandir, la ferme Sleepy G s'adapte continuellement aux demandes croissantes du marché. Le programme SNAPP a appuyé divers projets de l'équipe Sleepy G visant à créer de nouveaux produits, hausser la productivité et satisfaire aux demandes de la clientèle.
Grâce au programme SNAPP, la ferme a acheté une machine à tambour qu'elle a convertie en essoreuse à salade lui permettant d'ajouter les emballages de légumes-feuilles lavés à leur gamme de produits. Elle s'est également procuré un compresseur pour la réfrigération et de grands bacs pour l'entreposage des légumes racines et d'autres produits en vrac pendant l'hiver.
Le programme SNAPP s'est avéré déterminant pour la hausse de notre productivité et le développement de quelques nouveaux produits, nous aidant ainsi à générer plus de revenus

Marcel Paulin, Sleepy G Farm
Sleepy G Farm a fait preuve d'un dévouement inébranlable pour continuer à grandir et à offrir des légumes aux gens de Thunder Bay, notamment pendant la pandémie. Le financement SNAPP a aussi appuyé l'achat d'une serre-tunnel munie d'un système de chauffage et d'irrigation pour cultiver une plus grande quantité de plantes et combler la demande de jardiniers locaux découlant de la pandémie de la COVID-19.
—
Veg·e·tate Market Garden est un maraîcher qui se trouve à Kaministiquia, en Ontario, et offre des fruits et des légumes frais de grande qualité à la ville de Thunder Bay et aux environs, tout en faisant la promotion d'une agriculture intensive à petite échelle pour le bienfait des communautés et de l'écosystème qui l'entourent. Veg·e·tate est exploité par Justin Friedel et Caitlin Peuramaki-Brown. On y produit des micropousses tout au long de l'année, de grandes cultures de légumes, des herbes en pot, des semis à transplanter ainsi que des graines à germer et les fournitures connexes.
Pendant la COVID-19, la demande de livraison et de ventes en ligne a connu une hausse. En 2021, Veg·e·tate a ajouté des micropousses à sa gamme de produits offerts toute l'année et cherchait à maximiser son efficacité, augmenter ses revenus et offrir des abonnements mensuels à des boîtes de produits pour sa clientèle.
Le programme SNAPP a permis au maraîcher d'acheter un brise-balles et remplisseur semi-automatique pour automatiser la production des bacs de micropousse. Grâce à cette machine, une seule personne peut accomplir trois tâches, qui sont généralement effectuées à la main. Veg·e·tate a pu améliorer son rendement en normalisant le mélange de terre et en triplant le nombre de bacs remplis par heure. Le travail est ainsi minimisé et l'entreprise élargie des micropousses a une plus grande clientèle.
Sans cette aide (le financement SNAPP), jamais nous n'aurions imaginé avoir une telle pièce de machinerie.

Justin Friedel, Veg·e·tate Market Garden
Pour plus de renseignements, cliquez ici :
www.facebook.com/vegetategarden
Le nouveau Programme de productivité et des produits agroalimentaires du Nord durables (SNAPP) est une initiative du Réseau d'innovation agroalimentaire en région rurale (RIARR), une division du Sault Ste. Marie Innovation Centre, en partenariat avec la Northern Ontario Farm Innovation Alliance et le Northwestern Ontario Innovation Centre. Le Programme appuie l'agriculture et les producteurs d'aliments, les entreprises, les collaborations, les communautés et les Premières Nations du Nord de l'Ontario dans la création de nouveaux produits, la hausse de la productivité et la mise en place de technologies propres dans le but d'améliorer le rendement environnemental tout en favorisant la croissance. Le programme SNAPP est fier de recevoir un appui de FedNor.