Infrastructure Development
RAIN's research provides Algoma producers with solutions to barriers currently limiting the production or sale of agricultural goods. This research has identified a need for development in areas of transportation, storage and tile drainage infrastructure.
NOHFC Regional Infrastructure Program (Tile Drainage & Land Clearing)
The Rural Agri-Innovation Network is undertaking regional tile projects for Algoma, Manitoulin and West Sudbury.
The Northern Ontario Heritage Fund Corp. will fund 50 per cent of land clearing and/or tile drainage contractor costs to a maximum of $500 per acre. For more info on the program, download: 2014 NOHFC Funding Support for Agricultural Projects.
If you would like more information about this program, please contact Janette Wallace, Infrastructure Coordinator at x3135.
Downloads
Regional Infrastructure Tile Drainage Request for Quotes / Expression of Interest (Sept 25, 2014)
Program background on the Regional Infrastructure Program for projects 2014-16
Producer Agreement for Tile Drainage/Land Clearing (Manitoulin District)
Producer Agreement for Tile Drainage/Land Clearing (Algoma/Massey)
RAIN's research on infrastructure development, click here.
Agricultural Tile Drainage and Storage Study
An Agricultural Engineering Analysis and Development Strategy for Algoma District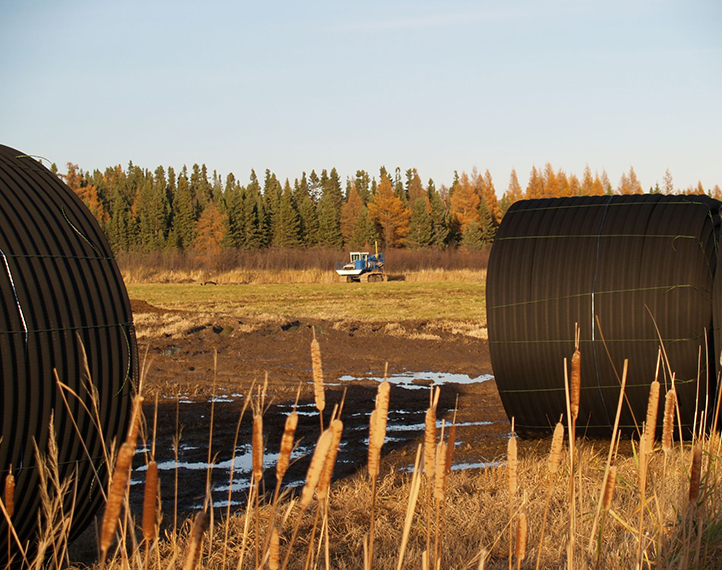 An agricultural drainage system is a system by which the water level on or in the soil is controlled to enhance agricultural crop production. Drainage systems may be divided into two categories, surface and subsurface. Subsurface drainage systems are often called a tile system, and all parts except the outlet are located below the surface of the ground. These systems provide better drainage than a surface system, and are particularly beneficial for field crops such as oil seeds (i.e. canola and soybean), legumes, corn, wheat, barley, and hay.
Conestoga-Rovers & Associates (CRA) has completed an agricultural engineering analysis and development strategy for agricultural tile drainage in Algoma District. Robert Bressan, CRA Project Manager, worked closely with RAIN and Algoma growers to collect data through questionnaires. The study is complete, and results will soon be shared with Algoma's agricultural community through information sessions.
This study supports the greater mission of being a more progressive and sustainable Algoma. Insufficient investment in tile drainage has been identified as a major impediment to agricultural expansion and diversification in our clay-based soils. Additionally, the study examined the current storage infrastructure in Algoma for dry and cold storage, and the need for this storage.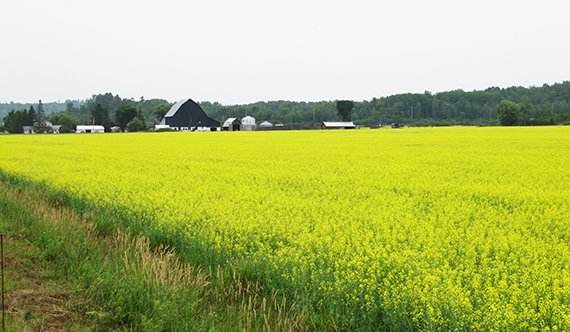 This strategy and action plan investigated:
Locations of currently drained lands in Algoma and priority ranking of lands that would benefit from tile installation
An economic assessment of likely costs/benefits associated with tile drainage installation (including options for reducing costs of tile installation)
Algoma's capacity for crop storage infrastructure
Potential options for reducing the cost of tile drainage
installation for Algoma producers, including funding or cost-share strategies
A full copy of the report will be available to the agricultural community shortly.
Below is a presentation of the study conducted by Robert Bressan (CRA)
[youtube id="_j2vwklj5tM" width="600″ height="350″]
Other Resources
Frequently Asked Questions about Subsurface (Tile) Drainage in the Red River Valley (University of Minnesota Extension)
Controlled Tile Drainage: Increasing Yields and Helping the Environment (Agriculture & Agri-Food Canada)
Drainage Act, Contractors and information for Municipalities (OMAFRA)