---
The Ugly Barn Farm is a small-scale mushroom farm located in Markstay, Ontario currently producing 18 species of medicinal and gourmet mushrooms. Mushrooms are produced with as much local material as possible and without the use of pesticides, in a year-round growing facility.
---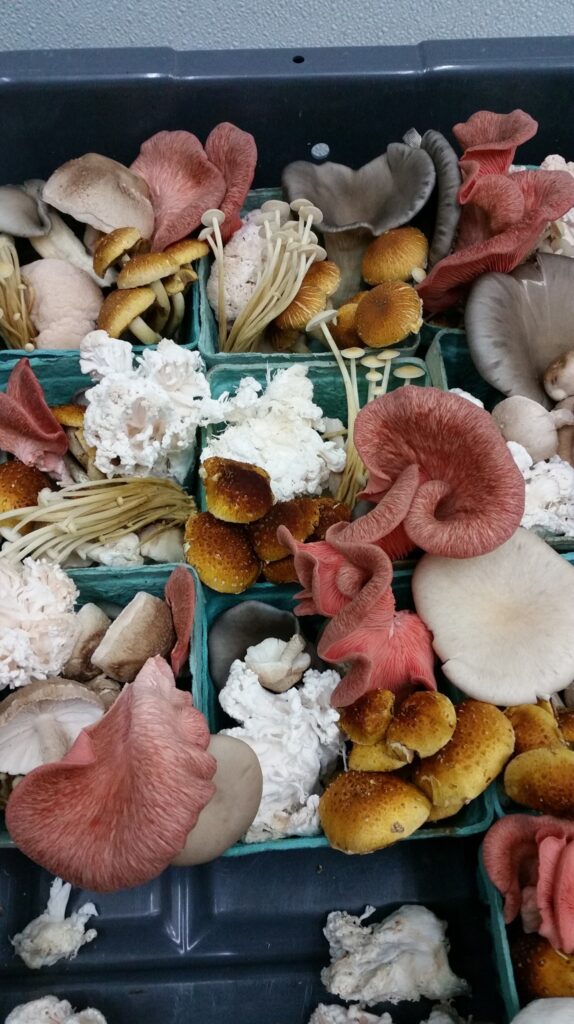 ---
The Sustainable New Agri-Food Products & Productivity (SNAPP) Program assisted Ugly Barn Farm to purchase an additional laminar flow hood, which allows for a sterile environment by blowing sterile, filtered air over the work environment. This equipment increases productivity by allowing for more inoculation to occur in a day. This increased efficiency in production allowed Ugly Barn Farm to grow more mushrooms to continue to create new products, such as mushroom jerky and pickled mushrooms. Due to the demand for local products brought on since the COVID-19 pandemic, this project also allowed them to expand markets and hire a full-time employee.
The Sustainable New Agri-Food Products and Productivity (SNAPP) Program is an initiative of the Rural Agri-Innovation Network (RAIN), a division of the Sault Ste Marie Innovation Centre in partnership with the Northern Ontario Farm Innovation Alliance and the Northwestern Ontario Innovation Centre and supports Northern Ontario agriculture and food producers, businesses, collaborations, communities and First Nations to create new products, enhance productivity and adopt clean technology to support improved environmental performance while fostering growth. SNAPP is proudly supported by FedNor.
Ugly Barn Farm
La ferme de champignons Ugly Barn Farm est une petite exploitation à Markstay, en Ontario, qui produit présentement 18 espèces de champignons médicinaux et gastronomiques. Les champignons sont produits en utilisant le plus de matière locale possible, sans pesticides, au sein d'une installation de croissance quatre saisons. 
Le nouveau Programme de productivité et des produits agroalimentaires du Nord durables (SNAPP) est venu en aide à la Ugly Barn Farm pour l'achat d'une hotte à flux laminaire supplémentaire qui assure un milieu stérile en soufflant de l'air filtré et stérile dans l'environnement de travail. Cet équipement augmente la productivité en permettant un volume d'inoculation plus élevé en une journée. Grâce à cette production plus efficace, Ugly Barn Farm a pu cultiver plus de champignons et continuer à créer de nouveaux produits, comme de la charqui de champignons et des champignons marinés. Étant donné la demande accrue pour des produits locaux pendant la pandémie de la
COVID-19, ce projet a également permis à l'équipe d'élargir leurs marchés et d'embaucher un employé à temps plein.
Le nouveau Programme de productivité et des produits agroalimentaires du Nord durables (SNAPP) est une initiative du Réseau d'innovation agroalimentaire en région rurale (RIARR), une division du Sault Ste. Marie Innovation Centre, en partenariat avec la Northern Ontario Farm Innovation Alliance et le Northwestern Ontario Innovation Centre. Le Programme appuie l'agriculture et les producteurs d'aliments, les entreprises, les collaborations, les communautés et les Premières Nations du Nord de l'Ontario dans la création de nouveaux produits, la hausse de la productivité et la mise en place de technologies propres dans le but d'améliorer le rendement environnemental tout en favorisant la croissance. Le programme SNAPP est fier de recevoir un appui de FedNor.