Farm Financial Management
The benefits of farm record-keeping are numerous. They can show key indicators for farm success and can also be used to monitor the impacts of decisions. Record-keeping is also beneficial for utilizing different programs like AgriStability, Growing Forward 2 and Traceability.
On Feb 11th, 2017, RAIN hosted John Molenhuis (Business Analysis and Cost of Production Specialist) from OMAFRA to discuss record-keeping, the Ontario Farm Accounting Workbook and cost of production budgeting.
According to Arzeno (2004), farm record-keeping happens in phases that include:
Recording receipts and expenses
Keeping and using inventories
Recording crops and livestock information
Analyzing the farm business
There are a number of options to help farms go through these phases of record-keeping.
Quickbooks, Paper or Excel?
While there is a number of software packages out there, there is a solution no matter what your budget is. The Ontario Farm Record Book (the Blue Book) is a pencil and paper option that costs $20. The Ontario Farm Accounting Workbook is another option that is Excel based and is free to use from OMAFRA. Other generic accounting packages like Sage (Simply) accounting, Quicken and Quickbooks are other options that provide more flexibility. This table from Molenhuis outlines options for farms: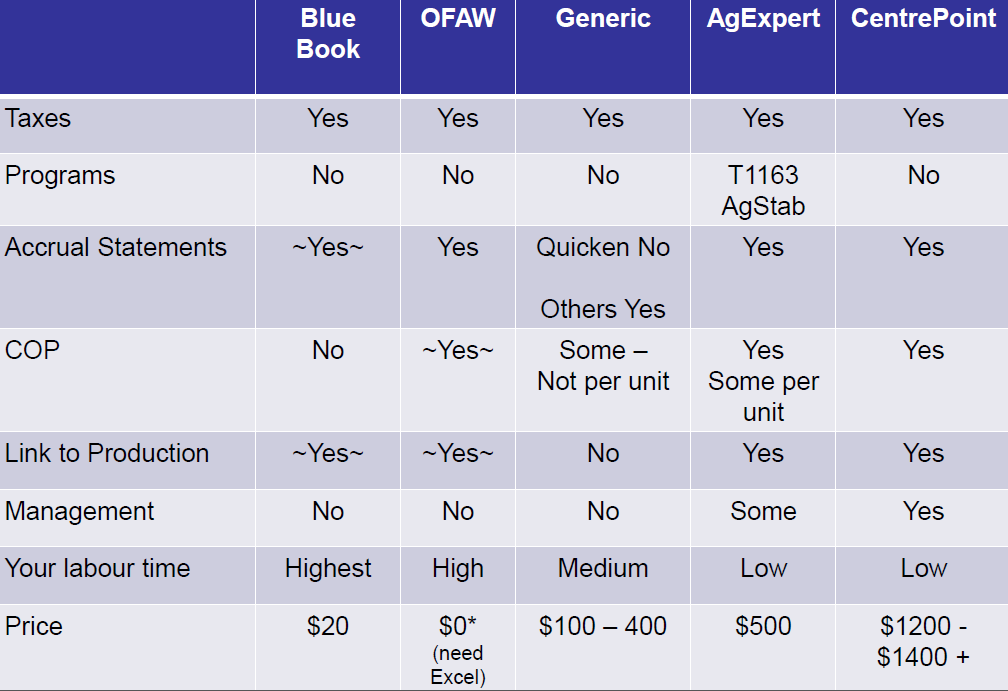 Both AgExpert and Centrepoint have online training and demo versions for farms to try before they buy.
Using Cost of Production (COP) to Your Business Advantage
The presentation by Molenhuis also covered cost of production budgeting. In his presentation he gave the anatomy of a COP budget as well as a guide to calculating COP. Download his presentation: Farm Financial Management Workshop – PDF Download.
For a complete list of OMAFRA's cost of production tools, visit their website.
Grass Fed Beef Decision Tool
Another tool developed in the US at the Wallace Center is the Grass Fed Beef Decision Calculator. This tool is comprised of a comprehensive, interactive Excel spreadsheet that allows you to examine the costs of various beef cattle enterprises and make informed financial decisions. Note: this tool was developed using input costs and performance data of grass-finishing operations in the upper mid-west United States. Northern Ontario producers should be mindful of local conditions (market and climate) when inputting their own data.
Videos on COP
The team at Agri-food Management Institute has compiled a number of videos that features business experts and farmers to help farms think about business management and planning.
References
Arzeno, A. (2004) Record Keeping in Farm Management. SDSU Extension.
This article was developed as part of the Next Generation North Project.
This project was funded in part through Growing Forward 2 (GF2), a federal-provincial-territorial initiative. The Agricultural Adaptation Council assists in the delivery of GF2 in Ontario.