---
The Martin family began farming beef in 1998, and direct market their products under their own brand -Pure Island Beef. The brand sells both grain-fed and grass-fed beef as boxed cuts online as well as to local markets and butcher shops in the Sudbury and Toronto area.
Innovation is something the Martins have been pursuing ever since they began farming and it's a big part of their success today. For years Jim Martin used a conventional manure spreader to return nutrients and organic matter back to the soil. The SNAPP program assisted with purchase of a vertical spreader to increase efficiency by spreading manure more accurately and uniformly for better soil, less compaction, and reduce run-off risk.
---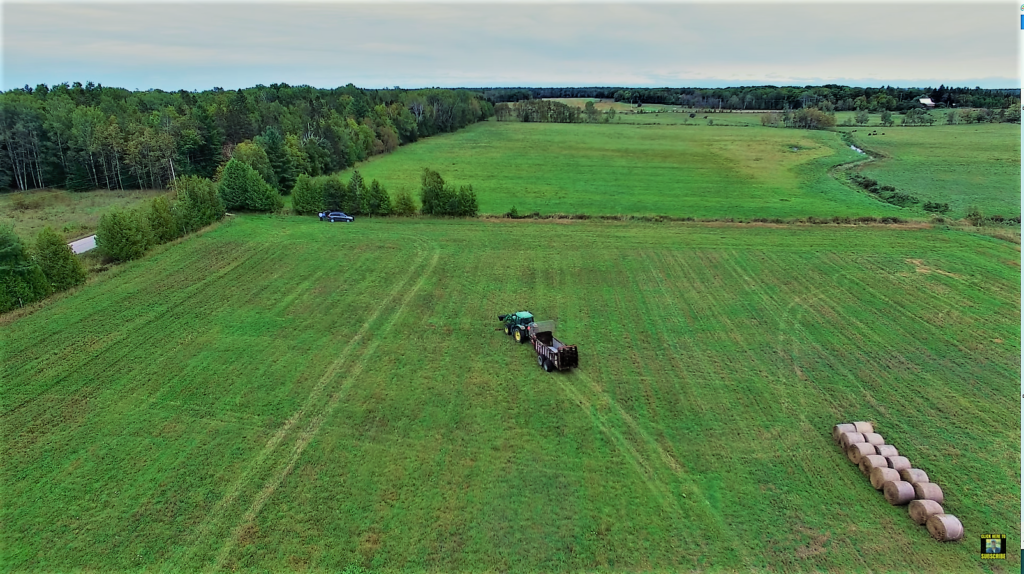 ---
The Martin's market all the beef from their 350-cow operation exclusively to consumers and retail with virtually no animals going through the commodity channels, and they need high-quality, high-energy feeds to finish and age their premium beef the way consumers demand. With assistance from the SNAPP COVID-19 Response Program, Nickolas Martin purchased a forage harvester with kernel processor to help meet the demand for locally raised forage-finished and grain-finished beef in northern Ontario.
The Sustainable New Agri-Food Products and Productivity (or SNAPP) Program is a funding program that responds to opportunities and mitigates challenges of expanding agri-food in northern Ontario. SNAPP is an initiative of the Rural Agri-Innovation Network, a division of the Sault Ste Marie Innovation Centre in partnership with the Northern Ontario Farm Innovation Alliance and the Northwestern Ontario Innovation Centre and is proudly supported by FedNor and the government of Canada.

Une garantie de réussite grâce à SNAPP : L'élevage de bovins innovateur sur l'île Manitoulin
La famille Martin élève des bovins depuis 1998, et vend directement ses produits sous sa propre marque Pure Island Beef. Cette marque offre des coupes de bœuf d'animaux nourris aux grains et à l'herbe en ligne sous forme d'emballages en boîte. Le bœuf est aussi vendu à des marchés locaux et des boucheries dans les régions de Sudbury et Toronto.
L'innovation est au cœur des opérations chez les Martin depuis le premier jour, et continue de s'inscrire dans leur réussite aujourd'hui. Pendant plusieurs années, Jim Martin avait recours à un épandeur de fumier conventionnel pour restaurer les nutriments et la matière organique de la terre. Le programme SNAPP a contribué à l'achat d'un épandeur vertical pour accroître l'efficacité en dispersant le fumier de manière plus précise et uniforme et ainsi améliorer la qualité de la terre, minimiser le tassement du sol et réduire le risque de ruissellement.
L'exploitation bovine des Martin compte 350 vaches et tout le bœuf produit est offert exclusivement en vente de consommation ou au détail, très peu d'animaux nécessitant des marchandises extérieures. Il faut de la nourriture de qualité supérieure qui donne un rendement énergétique élevé avant de procéder au traitement et au vieillissement de leur bœuf de premier choix pour combler les attentes de leur clientèle. Grâce aux mesures d'aide en réponse à la COVID-19 du programme SNAPP, Nickolas Martin s'est procuré une récolteuse-hacheuse avec concasseur de grains pour aider à combler la demande de bœuf fini au fourrage et aux grains d'élevage local dans le Nord de l'Ontario.
Le nouveau Programme de productivité et des produits agroalimentaires du Nord durables (SNAPP) est une initiative du Réseau d'innovation agroalimentaire en région rurale (RIARR), une division du Sault Ste. Marie Innovation Centre, en partenariat avec la Northern Ontario Farm Innovation Alliance et le Northwestern Ontario Innovation Centre. Le Programme appuie l'agriculture et les producteurs d'aliments, les entreprises, les collaborations, les communautés et les Premières Nations du Nord de l'Ontario dans la création de nouveaux produits, la hausse de la productivité et la mise en place de technologies propres dans le but d'améliorer le rendement environnemental tout en favorisant la croissance. Le programme SNAPP est fier de recevoir un appui de FedNor