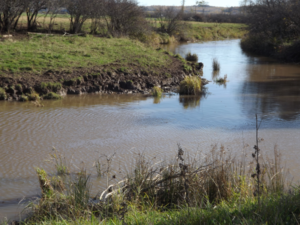 The Rural-Agri Innovation Network (RAIN) is looking for twenty volunteers to help a Laird Township producer plant trees in efforts to restore a shoreline along Bar River.
The "Riparian Awareness and Action with Algoma Producers and Communities" is funded by the Ministry of the Environment and Climate Change. This project will restore the Bar River shoreline in planting shrubs and trees along the river bank as well as installing fencing to ensure cattle cannot access the river bank in the future.
Riparian zones are areas of land adjacent to rivers, streams, lakes and wetlands, comprised mostly of water plants, saturated soil, and associated ecosystems. The zones are critical in terms of preventing soil erosion. This project will benefit fish habitat, water quality and the producer to be environmentally sustainable.
A workshop open to the community and volunteers will be held on May 18th 10:00 a.m. – 1:00 p.m. at the Bar River Community Centre for information on proper tree planting, and techniques to identifying erosion. Lunch will be provided.
Potential planting date is Friday June 15th, with a second planting sate (if needed) on Saturday June 16th.
To sign-up as a volunteer, please fill in this online form.
For more info or to register for the workshop, contact Mikala Parr, RAIN Research Technician, at 705 942 7927 ext. 3046 or mparr@ssmic.com.