[L'article en français suit ci-dessous]
Maltese Grocery is a deli, grocery and Italian specialty store located in Thunder Bay, Ontario. Open since 1931, Maltese is currently owned and operated by brother and sister Dave Maltese and Lisa Maltese-Bourget, who have been involved in the business since they were children. The store focuses on customer service and offers quality, authentic and ethnic foods, Canadian meats, and fresh products made in-store daily.
Maltese Grocery supports local businesses, suppliers, and the community. With a state-of-the-art commercial kitchen, Maltese creates prepared and jarred products using fresh, local ingredients as well as reducing waste by utilizing trimmings and bones in order to make beef, chicken and veal stocks.
Constantly meeting customer demand by increasing their product line, one of their best-selling products is pre-made burgers, which are prepared fresh in-store with meat sourced from local producers. The Sustainable New Agri-Food Products and Productivity (SNAPP) Program assisted Maltese in purchasing a state-of-the-art patty machine, which allows them to make 120 pounds of patties in 30-minutes. This is a significant increase in efficiency as the patties were previously made by hand.
Our sales in hamburger patties and meatballs have gone up over 1000%.

Dave Maltese, Maltese Grocery
SNAPP funding also assisted with the purchase of a commercial dishwasher to sterilize the jars without the use of chemicals and reducing the time and labour needed for this task. The equipment also pasteurizes and seals the glass jars to increase the shelf stability and quality of the ready to eat products, such as sauces and soups.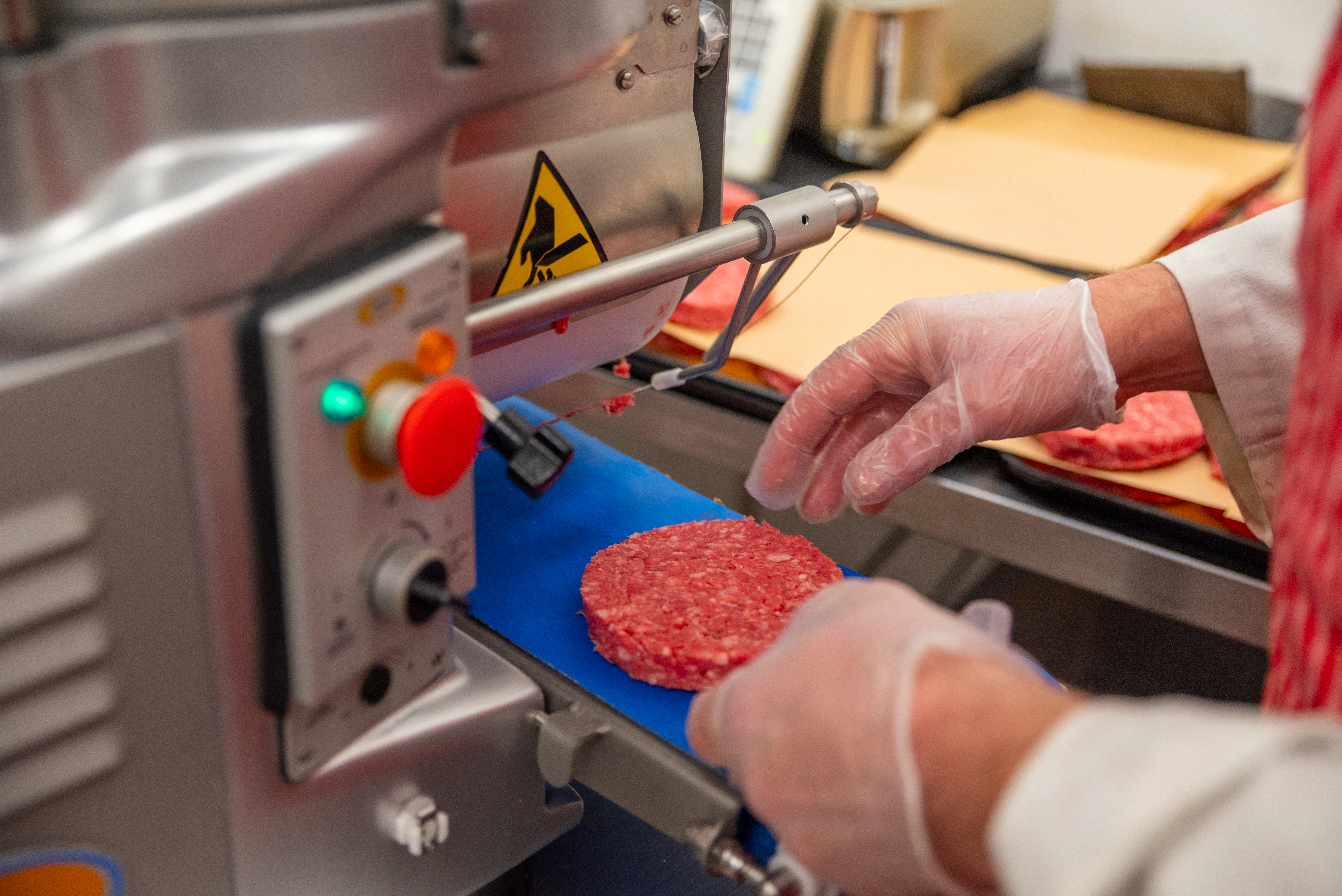 SNAPP has allowed us to invest in equipment that saves time, creates efficiency, and builds food safety.

Dave Maltese

Maltese has been able to consistently create new products, increase sales, partner with other local businesses to reach new markets, and hire staff. Expanding and increasing efficiency is one of the many reasons Maltese Grocery continues to stand the test of time.
For more information visit http://maltesegrocery.ca/
The Sustainable New Agri-Food Products and Productivity (SNAPP) Program is an initiative of the Rural Agri-Innovation Network (RAIN), a division of the Sault Ste Marie Innovation Centre in partnership with the Northern Ontario Farm Innovation Alliance and the Northwestern Ontario Innovation Centre and supports Northern Ontario agriculture and food producers, businesses, collaborations, communities and First Nations to create new products, enhance productivity and improve environmental performance while fostering growth.
SNAPP is proudly supported by FedNor and the government of Canada.
—
Le temps fait bien les choses
Maltese Grocery est une charcuterie, une épicerie et un magasin spécialisé en produits italiens qui se trouve à Thunder Bay, en Ontario. Le magasin existe depuis 1931. Aujourd'hui, les propriétaires-exploitants sont Dave Maltese et Lisa Maltese-Bourget, un frère et une sœur qui participent à l'entreprise depuis qu'ils sont enfants. Le service à la clientèle est au cœur de ce commerce qui offre des aliments authentiques et ethniques de qualité supérieure, des viandes canadiennes et des produits frais faits en magasin tous les jours.
Maltese tient à appuyer les entreprises et les fournisseurs locaux, et la communauté environnante. La cuisine commerciale chez Maltese Grocery est à la fine pointe. On y confectionne des mets préparés et des conserves à base d'ingrédients frais et locaux toujours avec l'objectif de réduire les déchets en utilisant les pièces restantes et les os pour faire du bouillon de bœuf, de poulet et de veau.
Dave et Lisa sont à l'écoute de leur clientèle et ajoutent constamment de nouveaux produits à leurs gammes. Les galettes de hamburger sont un des meilleurs vendeurs. Elles sont préparées en magasin avec des produits frais de producteurs locaux. Grâce au nouveau Programme de productivité et des produits agroalimentaires du Nord durables (SNAPP), Maltese a pu se procurer une machine à galettes ultramoderne qui arrive à faire 120 livres de galettes en 30 minutes. C'est une hausse considérable de l'efficacité étant donné que les galettes étaient faites à la main auparavant. 
Nos ventes de galettes de hamburger et de boulettes de viande ont augmenté de plus de 1 000 %. 

Dave Maltese, Maltese Grocery
Le financement de SNAPP a aussi permis l'achat d'un lave-vaisselle commercial qui stérilise les bocaux sans avoir recours aux produits chimiques, réduisant également l'énergie dépensée en travail et en temps que cette tâche exigeait. L'équipement peut aussi stériliser et sceller les bocaux en verre pour augmenter la stabilité de conservation et la qualité des produits prêts-à-manger, comme les sauces et les soupes.  
Grâce à SNAPP, nous avons pu investir dans de l'équipement qui nous permet de gagner du temps,  qui assure une constance et qui améliore la sûreté alimentaire

Dave Maltese
Le quotidien de Maltese se transforme continuellement : création de nouveaux produits, hausse des ventes, partenariats avec d'autres entreprises pour atteindre de nouveaux marchés et embauche de personnel. Son expansion et cette plus grande efficacité expliquent en partie pourquoi Maltese Grocery continue de résister à l'épreuve du temps.
Pour plus de renseignements, visitez le http://maltesegrocery.ca/
Le nouveau Programme de productivité et des produits agroalimentaires du Nord durables (SNAPP) est une initiative du Réseau d'innovation agroalimentaire en région rurale (RIARR), une division du Sault Ste. Marie Innovation Centre, en partenariat avec la Northern Ontario Farm Innovation Alliance et le Northwestern Ontario Innovation Centre. Le Programme appuie l'agriculture et les producteurs d'aliments, les entreprises, les collaborations, les communautés et les Premières Nations du Nord de l'Ontario dans la création de nouveaux produits, la hausse de la productivité et l'amélioration du rendement environnemental tout en favorisant la croissance.
Le programme SNAPP est fier de recevoir un appui de FedNor et du gouvernement du Canada.