RAIN's research provides Algoma producers with solutions to barriers currently limiting the production or sale of agricultural goods. This research has identified a need for development in areas of transportation, storage, land clearing and tile drainage infrastructure.
NOHFC Regional Infrastructure Program (Tile Drainage & Land Clearing)
Since 2014, the Rural Agri-Innovation Network has been undertaking regional tile drainage and land clearing projects on Manitoulin Island and within the Algoma District.
The Northern Ontario Heritage Fund Corp. will fund 50 percent of land clearing and/or tile drainage contractor costs (including materials) to a maximum of $500 per acre. For more info on the program, download: NOHFC Funding Support for Agricultural Projects.
To date, two consortiums consisting of over 50 land owners in total have benefited from NOHFC's Strategic Economic Infrastructure Program:
| | | | | |
| --- | --- | --- | --- | --- |
| PROJECT | LOCATION | FUNDING RECEIVED | TILE DRAINAGE (ACRES) | LAND CLEARING (ACRES) |
| Tile Drainage | Algoma | $989,000 | 1,650 | 0 |
| Tile Drainage & Land Clearing | Manitoulin | $976,200 | 1,552 | 75 |
| TOTAL |   | $1,965,200 | 3,202 | 75 |
If you would like more information about this program, please contact Cathy Bouchard, RAIN Program Coordinator at (705) 942-7927 ext. 3135 or cbouchard@ssmic.com.
Downloads
Producer Agreement Algoma-West Sudbury
---
Identifying needs for the development of infrastructure such as agricultural drainage, the Rural Agri-Innovation Network and the Sault Ste. Marie Innovation Centre recruited Conestoga Rovers & Associates, and C.G. Trivers Ltd. to conduct an Agricultural Engineering Analysis and Develeopment strategy for drainage in the Algoma District.
What is Tile Drainage or Subsurface Drainage?
The purpose of tile drainage or subsurface drainage is to lower the water table of poorly drained fields by placing perforated drain tubes 2-12 feet beneath the soil. Modern "tile drains" are corrugated, flexible, and perforated (PE or PVC) pipelines wrapped with filter material to improve permeability and prevent the entry of soil particles. Tile drains can be installed by a landowner on their own properties, or otherwise must be done by a licensed professional.
Benefits of Tile Drainage
Soil surface of tiled land will warm and dry out more quickly, allowing access to the field earlier and longer;
Crops can develop a deeper root system even in extreme wet or dry conditions (see image below);
Studies have shown that crop yields and quality will improve by 20-30% when compared to those on untiled land;
Improves aeration in the soil and reduces the risk of soil compaction;
The ability to better manage water depths on farmland reduces the risk of flood.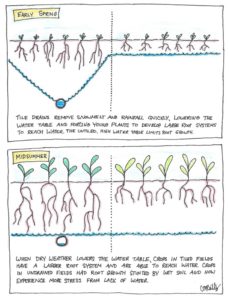 Click on image to enlarge
For more information on the environmental and economic benefits of tile drainage, see Fraser and Fleming's literature review.