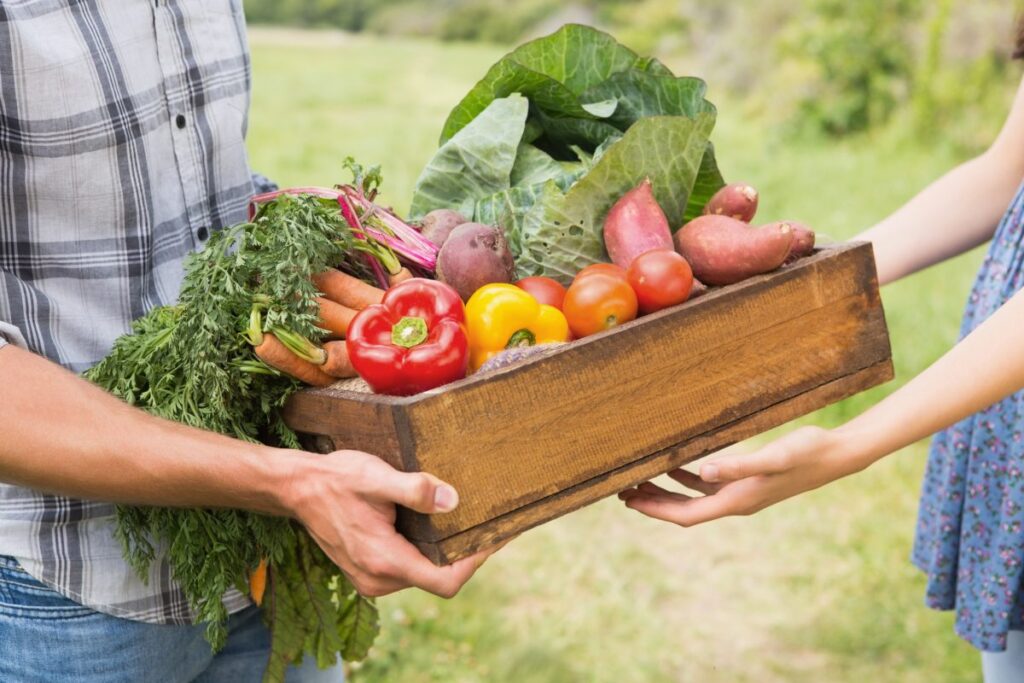 The Sustainable New Agri-Food Products and Productivity (SNAPP) Program supports Community Shared Agriculture.
Farming in northern Ontario is not without its challenges. Shorter production seasons, distance to markets and lack of economies of scale are just some of the challenges that can make business growth and profitability difficult for producers. Northern farmers have had to find different ways to sell their product and increase markets to reach more customers, such as selling on-line, attending farmer's markets, or creating on-farm stores. For some northern producers it is also important to secure a stronger consumer-producer relationship by establishing Community Shared Agriculture.
Community Supported Agriculture (CSA) is a model where a producer or group of producers, partner with customers and community members in their region, who make an investment in the farm in advance of a growing season and become members of the CSA. As members, they share the risks and rewards of that growing season, making a commitment to the farm. The farm can then plan the season based on membership. Members receive a share of the harvest which most often consists of vegetables, but can also include fruit, eggs, meat, or other products like maple syrup.
One of the main benefits of CSA's is the connection between producer and consumer – customers know where their food is coming from and how it is produced. CSA's also give customers piece of mind that their food is being produced close to home and in a sustainable way, with minimal packaging and they can pick up their food at the farm or have it delivered on a specific day, reducing their carbon footprint.
---
The Sustainable New Agri-Food Products and Productivity (SNAPP) Program has assisted many producers in purchasing equipment to enhance productivity, reduce labour and increase efficiency in harvesting while adapting to the increased demand for local food since the COVID-19 pandemic. These projects helped farms to better plan for the season and enhance customer relationships with either establishing or continuing CSA's.
Field Good Farms (Cache Bay, ON) purchased equipment to increase capacity to harvest potatoes, one of the farm's high profit crops. The Checchi and Magli SP 50V harvester increased marketable yield and productivity while also reducing labour and body stress by not having to manually dig potatoes. This increase of efficiency allowed for better planning and improvement of other crops and allowing the farm to grow their CSA membership.
Old McDonald's Family Farm (Lavigne, ON) purchased two caterpillar tunnels, as well as seedling equipment and trellising and grow lights to be able to better establish and prune tomatoes and other vining crops. The farm also installed a well and irrigation system to be able to better irrigate crops to increase production. The equipment allowed for this new farm to successfully run their first CSA program with 25 members.
Pitch Creek Farm (Nolalu, ON) purchased a 24x50ft movable high tunnel with propane heat and automated roll-up sides to increase greenhouse production space in the spring/fall. The project helped to expand this new business adapt to the demand for local produce, by increasing seasonal crops and pivoting to a full CSA model, which has been increasing in membership each year.
The Sustainable New Agri-Food Products and Productivity (SNAPP) Program encourages agri-food enterprises in northern Ontario to utilize innovative technologies or processes to increase efficiencies in their operations. SNAPP is led by the Rural Agri-Innovation Network (RAIN), a division of the Sault Ste Marie Innovation Centre in partnership with the Northern Ontario Farm Innovation Alliance and the Northwestern Ontario Innovation Centre.
---
If you are interested in supporting Community Shared Agriculture (CSA) in your area, registration is happening now. Here are just some of the farms in northern Ontario that run CSA programs:
Algoma/Manitoulin
Sudbury/Parry Sound/Muskoka/Cochrane/Temiskaming/Nipissing
Northwest